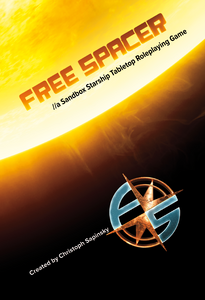 Free Spacer (Softcover)
Indie Groundbreaker Award 2020 nominee for Best Rules
Adventure. Investigation. Science!
Free Spacer is a contemporary science fiction tabletop roleplaying game. It leverages the newest space sciences, takes into account biotechnology, and brings the internet to the rim of the quadrant.
As a Free Spacer, you're a crewmember on a small starship, an outsider, and a contractor. You'll explore new worlds, investigate dangers, negotiate contracts, operate your starship, and do science!
As the Gamemaster, you have a wealth of tools at your disposal to build whole worlds and manage the machinations of sector factions in the ongoing Cold War. You'll be able to easily run conflicts, spaceflight, fabrication projects, and other challenges, while quickly generating new locations and characters.
Play to find out how the crew gets the job done, the choice they make, the rules they break, and the length will go for their Patrons.
Welcome Aboard, Free Spacer
---
We Also Recommend