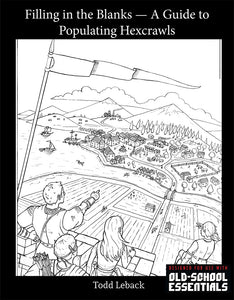 Filling in the Blanks (Softcover)
Filling in the Blanks is a guide to populating hexes with lairs and features to use in fantasy role-playing games. While written specifically for Necrotic Gnome's Old School Essentials it is compatible with virtually all OSR-style games, and can be used with more modern versions of the game with little effort.

It provides tables for randomly generating the number and type of lairs and features that can be found while exploring the wilderness and guidance on how to craft the results into coherent setting details.
---
We Also Recommend