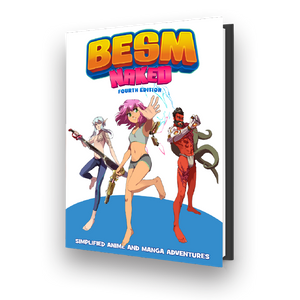 BESM 4E Naked Core Rulebook
BESM (or Big Eyes, Small Mouth) is a modular anime roleplaying game that got its start in the 90s. This is the long awaited 4th Edition since 3rd Edition released in 2007 (and no, not the d20 "3rd" edition)! Farbo is such a fanboy of the series that this is the result of a Kickstarter, so supplies are limited. 
What makes BESM special is that it is a flexible, point-based system. Every aspect of your character is bought with points! Freestyle remix! There are no classes or races (unless you want them, and templates are provided in this edition). Can you break BESM? Absolutely! That's not the point unless that is the point. BESM supports just about every genre, so start mixing Azumanga Daioh and 08th MS Team in Neo-Lancaster.
BESM 4 is actually two distinct games. In addition to the standard BESM Fourth Edition, we are also releasing a stripped-down core role-playing game called BESM Naked that a complete, stand-alone, alternate edition. See what we did there? BESM Naked is a "gateway product" of a sorts, targeted at anime and manga fans who may know something about role-playing but aren't traditional gamers. It's also for role-playing enthusiasts who enjoy indie-style RPGs with simple rules and more narrative game flow. With a structural simplicity closer to BESM First Edition from 1997 — yet presented with an eye on illustration and graphic design that lives up to the expectations of today's gamers — BESM Naked contains everything you need to play, wrapped in one small volume at an attractive price.
---
We Also Recommend