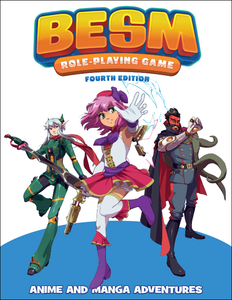 BESM 4E Core Rulebook
BESM (or Big Eyes, Small Mouth) is a modular anime roleplaying game that got its start in the 90s. This is the long awaited 4th Edition since 3rd Edition released in 2007 (and no, not the d20 "3rd" edition)! Farbo is such a fanboy of the series that this is the result of a Kickstarter, so supplies are limited. 
What makes BESM special is that it is a flexible, point-based system. Every aspect of your character is bought with points! Freestyle remix! There are no classes or races (unless you want them, and templates are provided in this edition). Can you break BESM? Absolutely! That's not the point unless that is the point. BESM supports just about every genre, so start mixing Azumanga Daioh and 08th MS Team in Neo-Lancaster.
BESM Fourth Edition core role-playing game book contains everything you need to create your anime and manga characters and start playing. No other books are required, though we have an entire expansion line in the works to support your gaming adventures. This gorgeous volume is a hefty 336 full-color pages with well over 100 beautiful illustrations from talented artist across the world. BESM Fourth Edition features a laminated hardcover with spot UV varnish and a durable Smyth-sewn binding that allows your book to easily lay flat and stay open to any page.
---
We Also Recommend