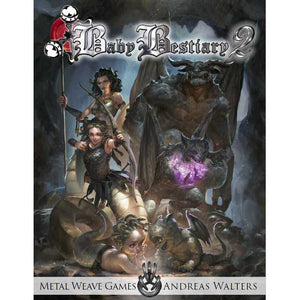 Baby Bestiary Vol. II
2017 Ennie Nominee for Best Interior Art and Best Production Values
Discover the Adorable
In a world of myth and magic, great heroes vanquish terrible monsters and earn a place in legend. But what about the babies left behind? This book is the first exploration of a new kind of adventure, the raising of young monsters to become loyal companions, beloved friends or fearsome guardians. If you are looking for something novel to spice up a fantasy roleplaying campaign, or simply want to see a different side to the creatures of fantasy art, the Baby Bestiary Book has all the monstrous cuteness you could want.
Funded by over 1000 aficionados of animal affection on Kickstarter in 2016, this book joins the Baby Bestiary 2015 Calendar in a new line of products by Metal Weave Games. The Baby Bestiary Handbook will add some 'awww' to your coffee table ornaments and 'squee' to your players' squelching through dank dungeons.
Includes Aboleth, Baku, Beithir, Bugbear, Djinayni, Dragon Turtle, Ember Demon, Godspawn, Enfield, Gargoyle, Harpy, Hippogriff, Hound Archon, Hydra, Kraken, Lighting Lizard, Lizardfolk, Medusa, Myconid, Naga, Ogre Magi, Orc, Otyugh, Pegasus, Peryton, Pseudodragon, Purple Worm, Remorhaz, Satyr, Sealion, Shambling Tuffet, Shrieker, Simurgh, Tarasque (the french one), Tatzelwurm, Troglodyte, Troll, Umbral Erebect, Unicorn, Wolpertinger, Xorn.
---
We Also Recommend