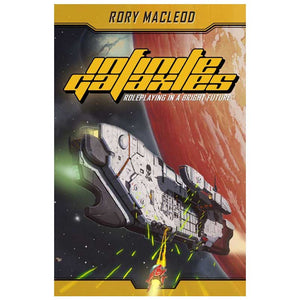 Infinite Galaxies
BLAST OFF FOR ADVENTURE WITH INFINITE GALAXIES

Are you ready for some sci-fi action-adventure? Robots? Aliens? Laser Guns? Starships? All of this can be yours with Infinite Galaxies!

Bring your own setting – or create a new one with your friends!

Infinite Galaxies is intended for 3-6 players and takes a few hours per game session to explore a galaxy-spanning adventure. Infinite Galaxies is a story game – the focus is on furthering the group's goals, each individual character's story, and respecting the creative contributions of every player.

Infinite Galaxies has been designed to work with existing science fiction settings from literature, cinema, and television, and includes advice for those who wish to create new settings with their friends.

This is a self-contained set of rules and game advice that will guide you through the entire game play experience. It includes 10 new playbooks designed to emulate common science fiction tropes, lots of iconic futuristic equipment and vessels, and extensive advice for creating and continuing an Infinite Galaxies campaign.
---
We Also Recommend