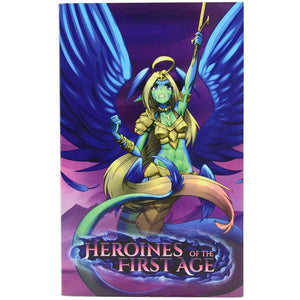 Heroines of the First Age
Sing, Muse, of Xlu the Red, of Tyakua the Stonebound, of Elbor the Unjust. Sing of the Heroines of the First Age, of the fire at the beginning of the world.

We are the Heroines! Demi-humans, monsterfolk, beastmen, whatever you call us, this is our story. We have many forms, from kistune to arachne, from centaur to harpy. We stand against terrible, vengeful gods and unstoppable cosmic forces.

This is the First Age! It is the dawn of civilization. People are just coming out of the forests and caves to create towns and agriculture. Grand armies are being assembled for the first time in history. The world is fresh, new, and exciting, and there's so much of it that has never been explored before.

Lead Armies! Take command of military units and field them against your enemies, or make a stand against entire armies yourself.

Prepare for your Quest! Heroines of the First Age contains 10 Archetypes, dozens of special powers, and more Moves than even the gods can handle. Choose from more than 20 Tragic Flaws and select a panoply of equipment fit for royalty.

Discover and Build as You Go! Collaborative worldbuilding at its best! Work together to create your very own tale! Heroines of the First Age contains everything you need to craft a unique world with your friends!

Inspirational Media: Utawarerumono, Nibelinglied, Maoyusha, Wintersun, The Epic of Gilgamesh, Monstress, Conan the Barbarian, Beowulf, Kobayashi chi no Maid Dragon, Black God's Kiss, Everyday Life with Monstergirls, The Iliad, 12 Beast, Enuma Elish, Myth, & Legend.
---
We Also Recommend