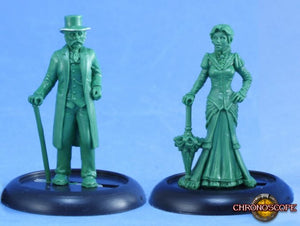 Victorian Lord & Dame
Ideal for beginner through experienced modelers, painters, and hobbyists.

Miniatures may come in multiple pieces, may need to be assembled, may require some minor straightening, and are unpainted. Pictures of the painted miniatures are for inspiration and are only examples.

PLAY, PAINT, AND USE: Reaper Miniatures are awesome in RPG and tabletop games like Pathfinder, Dungeons and Dragons (any edition), Dragon Age, Castles and Crusades, Hackmaster, Frostgrave, and Savage Worlds. Fantastic as an Art Piece, Gift, Family Project, Wargaming, or just for some fun.

---
We Also Recommend